Black Sun, Cork (2009 - 2013)
Bringing world-class experimental experiences to Cork audiences
"Black Sun is a space where the adventurous can gather, whatever their musical preference, to find something new, strange and fantastic; a space where the experimental is not something clique-ish for the afficionado, but precisely the opposite – an opening of possibility."
Black Sun was an outer limits/weirdo music and experimental film event that took place in Cork City between May 2009 and 2013. Programmer Vicky Langan invited many renowned makers of strange sounds from around the world to play for the first time in Ireland - Richard Youngs, Oblivia + Ju Suk Reet Meate, Áine O'Dwyer, Daniel Higgs, Mark Durgan, Michael Prime, John Wiese, Crank Sturgeon, ID M Theft Able, Blood Stereo, Adam Bohman, Usurper, Sudden Infant, Family Battle Snake, Okkyung Lee, Jean Louis Costes, Richard Dawson, With Lumps, HereHareHere, Gryn Brvs, Bolide, Eric Isaacson (Mississippi Records), Jozef van Wissem, Mike Gangloff, Steve McCaffery, cris cheek, Peter Manson and many more.
Bringing radical, experimental film to Cork
From late 2009, Black Sun complemented its live acts with film programmes that chimed with its commitment to bringing world-class experimental experiences to Cork audiences. Curated by experimental filmmaker Maximilian Le Cain, these screenings introduced the work of such major underground film figures as Iván Zulueta, Stéphane Marti, the Buharov Brothers and Piero Bargellini to Irish audiences. In presenting recognized masters like Jeff Keen and Ben Rivers alongside equally brilliant, if less well known, talents from the past (Etienne O'Leary) and present (Oriol Sánchez), it expanded Black Sun's commitment to opening minds and eyes.
In August 2012, the first film-only Black Sun Cinema event took place at the Triskel Christchurch Cinema, Cork, featuring James Fotopoulos' The Nest, a retrospective programme of Frans Zwartjes and a number of contemporary Irish shorts. These programmes continued until October 2013, allowing scope for the presentation of feature films as well as short programmes.
Since January 2014, Le Cain began programming Phantoscope, a quarterly experimental film programme at Triskel Christchurch Cinema.
In addition to programming for Black Sun, Le Cain has been involved in arranging retrospective screenings and talks in Cork by Abigail Child (in collaboration with The National Sculpture Factory), James Fotopoulos, Vivienne Dick and, in collaboration with Cork Film Festival, the Buharov Brothers and Christoph Girardet, and workshops by Peter Tscherkassky, Pip Chodorov and John Porter.
2013:
Richard Dawson, Birchall & Cheetham duo, Raising Holy Sparks, Eric Isaacson (Mississippi Records & the Alan Lomax archive), Richard Youngs, Áine O'Dwyer, Vicky Langan
Terrors of The Mind (Rouzbeh Rashidi)
The End of the Earth is My Home (Alan Lambert)
Chumlum (Ron Rice)
In Deference to the Squeamish (Willie Stewart)
Bill Mousoulis programme: In A Lonely Place, The Green Door, Vale, How To Use Your Camera, Still, The Shadows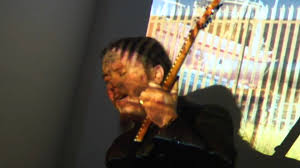 2012:
With Lumps, Woven Skull, Aonghus McEvoy, Divil A' Bit, Mike Gangloff, Yawning Chasm, Brigid Power Ryce, Sacred Harp Singers Of Cork, Meitheal, John Wiese, Wölfbait, First Blood Part II & Wölflinge, Okkyung Lee, Heavy Water (Mick O'Shea + Emil Nerstrand), Bolide, PCP
White Noise Programme curated by Florian Wurst:
My Name is Oona (Gunvor Nelson)
Rohfilm (Wilhelm & Birgit Hein)
Sun in Your Head (Wolf Vostell)
Khalil, Shaun, A Woman under the Influence (Sharon Lockhart)
Charles Manson (Wilhelm & Birgit Hein)
Television Delivers People (Richard Serra & Carlota Fay Schoolman)
625 (Wilhelm & Birgit Hein)
Energie! (Thorsten Fleisch)
Contre-Jour (Christoph Girardet & Matthias Müller)
Weissfilm (Wilhelm & Birgit Hein)

The Window (Julius Ziz)
The Black Box (Algimantas Maceina)
Ten Minutes Before the Flight of Icarus (Arunas Matelis)
Earth of the Blind (Audrius Stonys)
Abstract films by August Varkalis (1995-2002)
The Nest (James Fotopoulos)
Personal Discipline (Miroslav Bata Petrovic & Juliana Terek)
Green (Luther Price)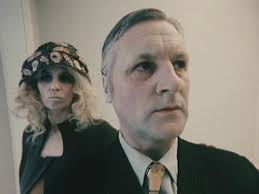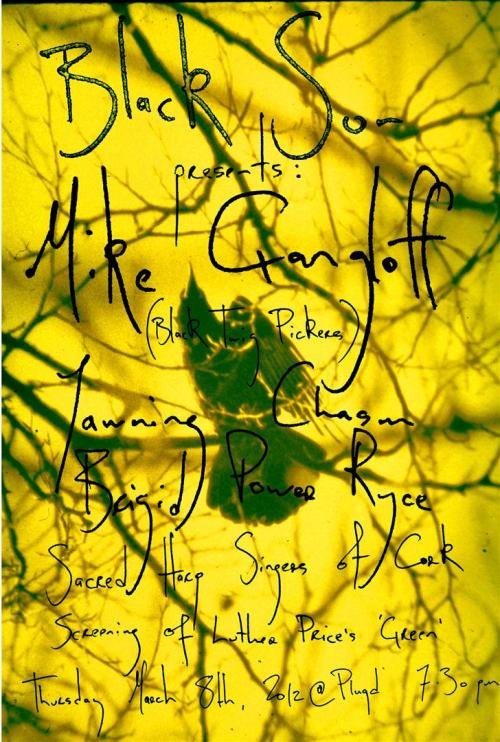 2011:
Crank Sturgeon, ID M Theft Able, Adam Bohman, Steve McCaffery, cris cheek, Peter Manson, Adam Bohman/Wölflinge/First Blood Pt II trio
Daniel A.I.U Higgs, Raising Holy Sparks, Sacred Harp Singers of Cork, Rory Francis O' Brien
Peter Rose programme - Analogies: Studies in the Movement of Time, Incantation
2010:
Malcy Duff exhibition & workshop, Usurper workshop, Usurper, Francis Heery, Sacred Harp Singers of Cork, Mark Durgan, Michael Prime, The Quiet Club, Sudden Infant, Family Battle Snake, Sudden Infant, Toymonger (The Joinery, Dublin), DJ Daniel Spicer
Stephane Marti programme - Allegoria, Mira Corpora
Ah, Liberty! (Ben Rivers)
Concern For One's Fellow Man (Ivan & Igor Buharov)
Hotel Tubu (Ivan & Igor Buhraov)
Artwar 3: Irresistible Attack (Jeff Keen)
Stricnina (Piero Bargellini)
Tuning the Sleeping Machine (David Sherman)
A Mal Gam A (Ivan Zulueta)
2009:
Blood Stereo, HereHareHere, Gryn Brvs, Fuaimbhac, Oblivia + Ju Suk Reet Meate, Jozef van Wissem, Laura Sheeran, Jean Louis Costes, Not Abel and Alex Conway, Over, Rest, Safe, Vomit Nest, First Blood Part II
St Francis Didn't Run Numbers (Chris O'Neill)
Copy Scream (Oriol Sanchez)
Homeo (Etienne O'Leary)