Back in December 2009 (the day before the Black Sun with Blood Stereo, Fuaimbhac, Gryn Brvs and HereHareHere), I was invited up to RTÉ studios, along with a number of other Cork-based sound artists, to each do an interview with Bernard Clarke, the presenter of Nova, a contemporary music programme on RTÉ Lyric Fm.
As much as I was looking forward to visiting RTÉ and having a look around the studios, part of me felt like I really had no business being interviewed for such a highly-esteemed show on national radio. It was my first time being interviewed as 'an artist' or 'composer', both terms I shrugged off uncomfortably anytime they were mentioned.
I haven't listened back to the recording in a while but looking at the playlist, I'm reminded of what ground we covered. At the time, I was ferociously private about the work I created. I wasn't interested in documenting performances and had little interest in ever recording something that wasn't for a live audience. All we had to go on was recordings of a number of collaborations I had done with various friends over the years, along with one solo recording where I taped myself screaming into a tube in my bedroom for the Rediscovering Locality A Sonology Of Cork Sound Art cd curated by Danny McCarthy.
Bernard was a very sharp interviewer and I loved our time spent together. Our conversation tumbled out so naturally that it ended up becoming an hour long feature on his two hour programme. My mother was burstin' with pride, and I'm delighted to have been able to pay a small tribute to her and the influence she's had on me over the years. When it was broadcast that summer night the following year, I lay on my bed and held a pillow over my face, shouting into it anytime I heard my voice. It was tough going, but I eventually relaxed and began to enjoy listening to the chat unfold.
So, here's the interview from 4th December 2009, which was eventually broadcast August 1st 2010.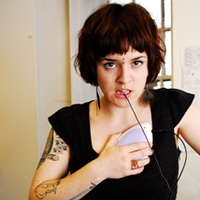 http://www.rte.ie/lyricfm/nova/1375893.html
Playlist:
Voltos Bolt - Vainio/Vaisanen - Pan Sonic - Gravitoni - Blastfirstpetite - PTYT 045 - 03:39
Early Morning Fog - Reto Mader - RM74 - Reflex - Utech Records - 05:45
Monk - Denseland - Denseland - Chunk - Mosz - MOSZ-022 - 05:11
Frozen Chunk - Denseland - Denseland - Chunk - Mosz - MOSZ-022 - 03:16
Thinking You Are Here And I Am There - Female Orphan Asylum - Vicky Langan and Brian Conniffe - 06:07
Transitory Life - Laurie Anderson - Laurie Anderson - Homeland - Nonesuch - 524055-2 - 06:51
Time Lapse - Arve Henriksen - Arve Henriksen - Chiaroscuro - Rune Grammofon - RCD 2037 - 05:07
Ending Image - Arve Henriksen - Arve Henriksen - Chiaroscuro - Rune Grammofon - RCD 2037 - 02:26
.Your Heart Stops.You Continue Writing - Michal Nejtek - Prague Modern/Michel Swierczewski - European Broadcasting Union Recording - 12:36
After Pieces 1 - Raymond Deane - Raymond Deane - Contemporary Music From Ireland Volume 1 - CMC - CMC CD 01 - 04:09
The Ninth Set Sector 1 - Roger Doyle - Roger Doyle - The Ninth Set - Die Stadt - DS103 - 09:51
Pathworking - Female Orphan Asylum - Vicky Langan and Brian Conniffe - 03:35
She Belongs To Me - Bob Dylan - Bob Dylan - Bringing It All Back Home - CBS - CD32344 - 01:35
I'M Going Home - Traditional American - Ervin Webb & Prisoners - Presenting The Alan Lomax Collection - Rounder Records - CRSCD 810 - 02:30
Lamp-Lit Wood - Agitated Radio Pilot - David Colohan and Vicky Langan - David Colohan and Vicky Langan - 03:35
For Alice Coltrane - United Bible Studies - United Bible Studies - 05:45
Howlaround - Vicky Langan - Wolflinge - Rediscovering Locality A Sonology Of Cork Sound Art - Farpoint - FARPOINT031 - 00:45
Rentre Bourre - Jean-Louis Costes - Jean-Louis Costes - 04:01
Voce - Vicky Langan and Damien Donovan - Vicky Langan and Damien Donovan - 05:06-